HSS EMPOWERS EMPLOYEES TO HANDLE TOUGH SITUATIONS WITH INTERPERSONAL SKILLS TRAINING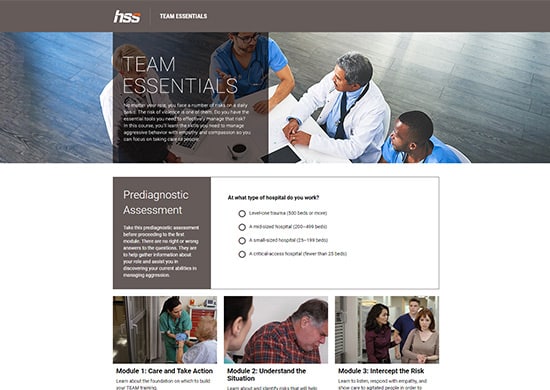 We live in a time when stress levels are often high and conflict resolution is a valuable professional skill. When Healthcare & High-Risk Security Services, Inc. (HSS), an organization that specializes in physical security and workplace violence prevention, needed an eLearning program designed to help busy healthcare professionals to identify the early warning signs of aggressive behavior, they partnered with AllenComm.
The goal was to develop a training solution to help participants mitigate and protect themselves from violence, and increase overall empathy and confidence. It was important to HSS that this educational program be interactive, engaging, and informative, but also concise and time-effective to minimize training time for the busy healthcare professionals that would participate in the course.
SECURITY & INVESTIGATIONS
RESPONSIVE
"Open communication throughout the entire process. The level of expertise, and how engrossed they became to learn so much about our industry. Each member from the beginning with the RFP process to the design level and the creative team were personable, professional, and focused on our (ever-changing) needs."
Seth Karnes, Director, TEAM / Ed-Safe, HSS
SOLUTIONS
AllenComm worked with HSS Inc. to create a series of five modules spanning the course content. The training features rich media, gamification elements, and a pre- and post-completion survey assessment to gauge confidence.
The coursework centers skills such as empathy, prevention, teamwork, and real-world action. Learners needed to complete the training feeling confident in their ability to stop patient violence and aggression before it escalates, and to be able to reach out for support if necessary.
The courses were designed and published in digital format to be available across platforms and devices to create greater ease of access and an on-demand, time-effective training solution.
RESULTS
The award-winning eLearning course achieved the following:
Addressed multiple learner groups without sacrificing content relevance


Included elements such as an initial survey and opportunities to respond and reflect on given prompt


Created an experience that felt truly personal and relatable to participants


Contained activities such as immersive video scenarios and gamified knowledge checks to allow learners to practice skills and explore consequences in a safe environment


Training was published in a responsive format available for access on multiple device types


AWARDS
Gold Davey for Team Essentials for Education for Websites

Gold Davey for Team Essentials for Health & Health Services for Websites

Silver Davey for Team Essentials for Training for Websites

VIEW MORE AWARD-WINNING COURSES