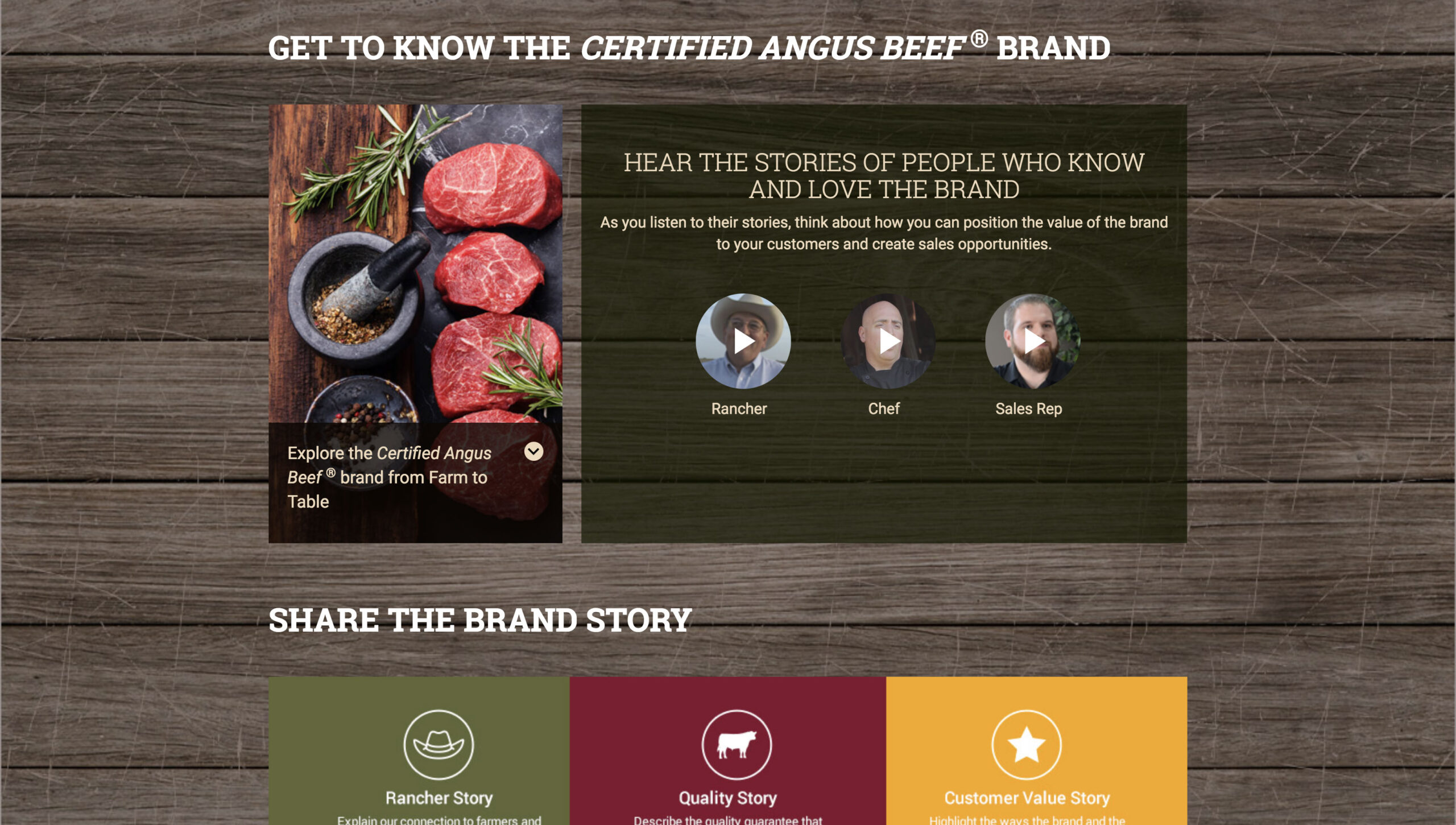 Business Challenge
Certified Angus Beef (CAB) sought to create a training for both their organization and for their third-party sales representatives. The goal was to develop a training that would help increase sales, demonstrate the value of the brand, and to teach the skills to best represent the brand. The course had to consider the experience levels for the learners taking the course in addition to being considerate of the learners' professional experience levels. The course had to be flexible enough to fit the sales representative's busy schedules.
---
AllenComm Solution
To best fit the needs for CAB and their third-party sales representatives, AllenComm designed a course that was broken into five distinct learning modules that focused on a specific topic and how that topic related to an important aspect of the Certified Angus Beef® brand. The course emphasized the importance of the brand while demonstrating how the brand reflected the communities and businesses they partner with.
Each topic was divided into sections that built from previous lessons, covering aspects such as who the sales representatives work with, what the selling points of the brand are, and how to overcome potential objections when making a sale. During these sections, learners would observe interactions where a sales representative interfaced with a prospective client and watched how the representatives resolved different obstacles that could potentially prevent making a business deal.
Video
Web-based
Microlearning
Interactive
Motion Graphics
---
Results
Sales representatives can call on the specific details regarding the Certified Angus Beef® brand and explain what their qualifiers mean to potential clients
Sales representatives can address objections more quickly and relay the benefits of working with CAB can have on a business
Sales representatives can recognize growth for Certified Angus Beef® brand products in a business and make recommendations according to potential customer needs
---
Awards
Silver Horizon Award – CAB Brand Sales Training for Mobile Apps
Bronze Horizon Award – CAB Brand Sales Training for Websites Corporate B2B
Bronze Horizon Award – CAB Brand Sales Training for Video Instruction