Upskilling and Reskilling Programs That Prepare Employees for Change
It's always the right time to learn something new. And that may be true now, more than ever, as the jobs of the future require new skills, more flexibility, and increased capabilities to improve the customer experience and stay competitive. You need engaging upskilling and reskilling training programs to keep your workforce nimble and your organization agile.
In short: effective upskilling and reskilling training programs are the ultimate change management strategy.
Let's learn and grow together. AllenComm works with leading brands to determine the needs of their workforce for upskilling and reskilling programs. We create the talent development, retention, and succession planning training solutions that will have the impact needed for your unique objectives. Our experts will work with yours to determine the benchmarks for measurable success and develop a plan to meet them.
Work with us. Together, we'll build the upskilling and reskilling learning journey that will take your employees to a place of confidence, capability, and readiness to meet challenges.
what our clients have reported
---
Case Study
Building the Future: Value-Added Training to Empower and Enrich the Community
Challenge: Develop an upskilling training that would teach the importance of building, maintaining, and using credit to improve financial literacy in communities across the United States.
UPSKILLING/RESKILLING SUCCESS STORIES
BENEFITS OF UPSKILLING AND RESKILLING
1. Build a resilient workforce - Putting your employees through the reskill process regularly will improve their specific skillset and foster their ability to stay relevant in the digital age.
2. Boost collaboration - Allowing employees to explore different skills that are outside their immediate role, helps them gain understanding of other roles and boosts collaboration.
3. Create a culture of learning and a stronger brand – Aligning the skills that are critical to your organization's success with employee aspirations and interests demonstrates your prioritization in your employees' growth and development.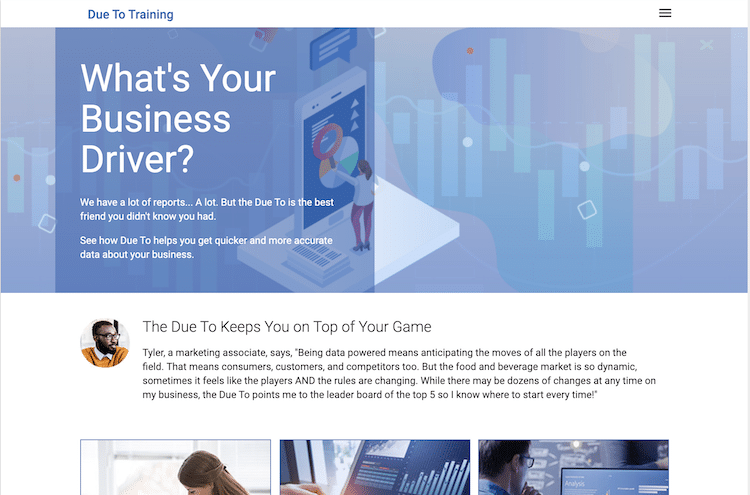 We use a design-thinking approach to gain a deep understanding of your learners' habits and behaviors. It might be difficult for your company to identify which skills your employees have, which skills they need, and how to fill the gaps. That is why thorough needs analysis and performance mapping are vital before starting down the path of building an upskilling or reskilling solution.
We will work with you to:
1. Identify the skills your organization needs for future growth
2. Build employee skills through impactful learning experiences
3. Launch tailored learning journeys to close the critical skill gaps
We challenge our clients to think differently. We give recommendations and options based on the wealth of our experience. We're proud that our clients recognize us as an extended part of their team, committed to their success.