Can you take a systems approach to creativity in training development? Many would argue you can't. At Allen, we've created an environment that nurtures and promotes creativity. This environment relies on:
Catalytic processes
A culture of innovation
Smart, talented people
Here is our process for creativity—it can serve as a catalyst for creativity even if it doesn't guarantee that light-bulb moment.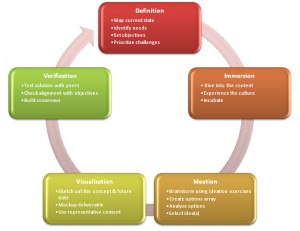 This process is probably pretty self-explanatory. You may have to cycle through it a couple of times before something works. For us, this is a sub-process within the design phase.
The second element that goes into creating a creative environment is culture. Here are some of our cultural values:
No project is too small for innovation.
Don't wait for the client to raise the bar.
Treat client projects as if they were our own.
Each project should reflect the designer's resourcefulness & passion.
Each project should also leverage our collective experience & talent.
Interesting people design interesting courses.
Such values can be used to set goals, check mindsets, and assess our success.
The third aspect that we think is vital to creativity is having great people. At work, we tend to put on our Clark Kent alter ego. Most of us have another side. Leveraging the full range of our team's experience helps us generate resourceful, passionate, even heroic ideas. Here are some of our super talents:
Instructional designers that teach, act, & run marathons
Artists that moonlight as DJs, cartoonists, & musicians
Programmers that are aspiring novelists, basketball stars, & moto racers
Project managers that rescue shelter dogs & volunteer in their communities while cooking, singing, & blogging
I was recently challenged by a prospective client to show them our creativity. I showed them several examples of past projects, and I was surprised that they couldn't see it immediately. I think that this is because there is a difference between technical and artistic creativity. Technical creativity is problem-solving—it's creativity that gets work done in a new way or introduces new ideas to meet business needs. Artistic creativity resides within the realm of the arts. Arguably, we use both on several of our projects, but I think it's really the technical creativity that matters for instructional designers and for learners. Creativity must meet a defined performativity criterion.



Tags: Instructional Design, training company, training development,