BEAUTYCOUNTER PROMOTES SALES SUCCESS WITH ONBOARDING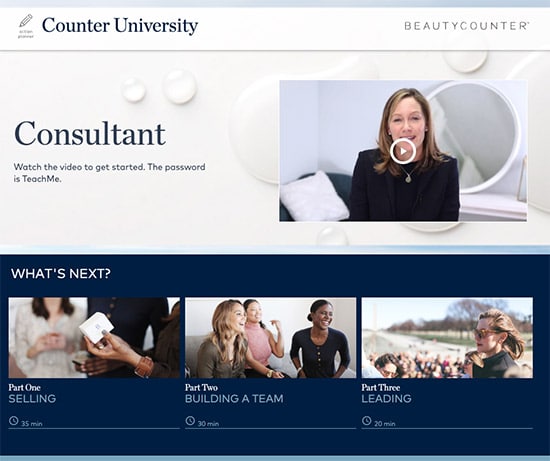 As the digital marketplace expands companies in the direct-to-consumer space must be ready with the tools to scale outreach, sales and support.
With about 40,000 independent sales consultants and 150 products, Beautycounter sought transformative solutions to prepare for expansion and to help new consultants put their 'best face forward.'
The requested onboarding training solution had to provide a better understanding of products, the company mission and procedures, and create a clear, user-friendly onboarding path to success.
CONSUMER GOODS
40,000 LEARNERS
CONTENT DEVELOPMENT
TRAINING STRATEGY
DIAGNOSTICS
PERFORMANCE MEASUREMENT
ACTION PLANNER
JOB AIDS
DIGITAL RESOURCE HUB
SOLUTIONS
COUNTER UNIVERSITY
By creating a consistent course roadmap for both new and existing consultants to use, AllenComm created a training plan that offered learners a clear path to becoming a Beautycounter Managing Director. A microlearning strategy kept learning opportunities short, sweet, and timely, with stop-and-start functionality that would allow consultants to progress in the course whenever it fit into their busy schedules.
An exploration-driven approach was important to the consultants in order to balance their personal business-building strategies with the structure and guidance they needed to get started. Learners were encouraged to follow the path laid out for them through the training, but also to make the experience their own and tailor the best practices they were given to suit their business and market. What's more, the entire training experience was designed to be mobile-friendly and hassle-free, perfect for consultants who run much of their business from their phones.
RESULTS
The course and activities are designed to help new and existing Beautycounter consultants successfully:
Set themselves on a fast track to advance to the Managing Director title with the guidance and resources they need


Prepare themselves for any client conversations by referencing product information, sales tactics, and built-in training tools at home or on-the-go


Self-evaluate and set goals by using the My Regimen action planner, which strengthens their critical thinking skills and extends the training journey far beyond the time spent taking the courses


AWARDS
Silver Omni Award in Education, Beautycounter Consultant Training

Silver Horizon Award for Video Instructional, Beautycounter Consultant Training

Silver Horizon Award for Websites Training/E-Learning, Beautycounter Consultant Training

Bronze Telly Education for Non-Broadcast, Beautycounter Consultant Training

Gold Brandon Hall Excellence in Leadership Development Award in Best Advance in Coaching and Mentoring

Silver Brandon Hall Excellence in Learning Award in Best Use of Mobile Learning

Silver CLO Award Learning in Excellence, Excellence in eLearning

Silver Brandon Hall Technology Award, Best Advance in Onboarding Technology
View More Award-Winning Courses