How learning Bursts Support Attention and Memory
Allen Training Newsletter – June 2012
AllenComm
June 1, 2012
Help Shape the Future of Corporate Training
Give us your thoughts.
Let us know how you plan to use learning technology in the future by taking a short survey.
Click here to take the survey.
Assure the Success of Your Technology
Systems Assure helps clients and their systems integrators lower the risk of project failure and increase ROI on your technology investment.
Allen Communication & Aberdeen Group Release Research Paper – ERP Implementation and Training: A Guide to Getting Your Business in Gear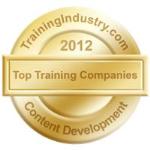 Trainingindustry.com Top 20 Announcement!
We are proud to be selected as one of the Trainingindustry.com Top 20 Content Development Providers.
Read more about the announcement here.
Corporate Learning Blog
Here are some of our most popular blog posts that you may have missed.
Using DesignJot to Build Better Training
Let me tell you about my recent experience with DesignJot. As I was prepping the room for our design meeting, my client asked if she could get me a laptop to load up my PowerPoint deck. I told her I wouldn't need PowerPoint today.
Learn More…
Designing Training that Packs a Punch
As instructional designers, our central purpose is to change behavior. So how do we design training that will make a lasting impact on workplace performance? We have some suggestions.
Learn More…
Upcoming Events
Join Allen at this Year's Leading Learning Industry Events
eLearning Symposium – Austin, Texas – June 13-14
Michael Noble, Allen CLO and Anna Sargsyan, Allen Director of Instructional Design will be presenting.
Society of Insurance Trainers and Educators – McLean, Virginia – June 23-27
Allen will be presenting on best practices in mobile learning as part of the conference theme: Teaching in Exponential Times.