PG&E REVAMPS TRAINING TO MITIGATE AND REDUCE RISK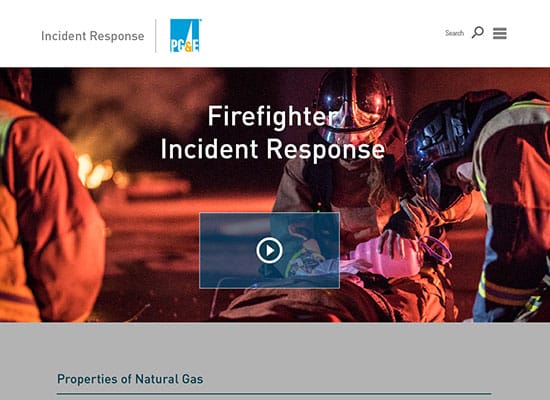 Utility employees are often called upon to act as first responders on the front lines when emergency repairs are needed to contain potentially hazardous situations. Pacific Gas and Electric (PG&E) recognized a need to provide training that expands their employees understanding of potential concerns and hazards in their industry, and improves interactions with local police and fire in the event of a gas leak.
They sought an updated training course that would reduce risk, protect personnel, and help employees to contain situations when needed. Training courses had to be engaging, meet learner accessibility requirements, use current standards for web compatibility, and be open to the public.
UTILITIES
24,000 EMPLOYEES
SOLUTIONS
AllenComm created a training that could be accessed anywhere by any user. The course reflects the business by using branded elements that make the course feel like a natural extension of PG&E internal materials.
Using the AllenComm Learning Portal, learners can create their own profile, engage with the course content, and keep track of their progress throughout the training. The course was built using HTML5, making it as adaptable and user-friendly as possible. The training makes use of videos that teach learners about the dangers that could affect PG&E, and the methods to prevent and contain potential hazards. To ensure that the videos are widely accessible, captions are provided to better meet the needs of learners.
Course completion data was designed to be compiled weekly into a results report that would be delivered to the administrator. Authorized admins could see which users had completed the course, and which users were still in progress.
RESULTS
Learners taking the course can identify the correct procedures when responding to law enforcement and the fire department

Administrators can keep up to date on user completion status by using the reporting functionality of the course

Employees are able to complete the training at their own pace, and can readily review all content at their convenience