Learning with Gamification: Pairing a Powerful Business Vision with the Right Design Strategy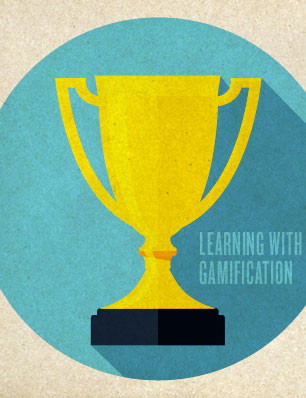 From our past blogs, many of our visitors are aware that Allen has put a stake in the ground on helping companies use their brand for corporate and consumer education. As a recap, we believe that to be effective in the area of brand education it's important to mesh marketing best practices with deep instructional design know-how. Our company has learned a lot from the marketing world and has become firmly aligned with best practices that are paying off for our customers! We are excited to be going to the upcoming Masie Learning 2014 Conference to highlight the success we have had developing solutions for one of the nation's best-known brands.
The Design Story
With our experience in gamification, our portal technology and our knowledge of specific best practices in brand education, our company had the privilege of partnering with HP on a project with especially high ambitions: to communicate a powerful new brand strategy, to every function and every business unit in 60 countries. Moreover, the target for project success was over 300,000 completions of the brand experience, both mandated and voluntary, in a very short timeframe. It goes without saying that success in this scenario required pairing a bold business vision with an aggressive design and technology strategy. The right vision paired with a typical design strategy would not work!
Based on our Performance Mapping Process, and working with HP experts, we identified the specific behaviors that if adopted would be indicators of the program's success. Specifically we needed to develop an innovative brand education program to improve employee execution of the HP customer experience. To meet the challenge, we settled on an innovative approach drawing on gamification and personalized learning, supported by a powerful brand portal for tracking and role-specific support. This approach has not only proven amazingly successful within HP (I'll share some of the results at the end of this blog), but it also recently earned a Brandon Hall award and is being highlighted at Masie's Learning 2014 Conference.
The Approach
While I can't go into specifics about the actual program (you'll need to attend a conference for that!) it is exciting to share some of the principles that guided our design decisions. These can be helpful to anyone who is considering using gamification and personalization for brand education, sales and product training and any learning programs that you need to scale through your organization.
Gamification in the Corporate World
In order to explain what we did it's important to emphasis what we did not do. For many pundits in the training industry, gamification is seen only as a focus on the fun factor and has become a bandage to cover lack of audience analysis and lack of good structured content. It has been our experience that games based on templates and games not preempted by contextual knowledge building tend to overtake the subject matter itself and inhibit the behavioral changes that we are trying to achieve. On the flip side, specific application of gamification approaches in a holistic manner, when aligned with the following principles, have had success for us and our clients:
Simplicity – The best games are challenging, yet intuitive. For HP, we created a simple (but smart) game that earned more course completions in a few months than any program in the company's 75 year history.
Discovery – "Play" is still the keyword, so we design games and simulations with open rules so learners can drive the experience. The HP game allows learners to interact with customers they choose, rather than force them into linear sequences.
Achievement – Our solutions incentivize progress through points, leveling, badging, and leaderboards. For HP, these features span many courses, creating scores that carry through full programs and create knowledge champions.
Community – Learning is often best when it's a social activity. In our games, we create friendly competition and communities, using tools like forums, teamwork, and challenges.
Context – Our games do not abstract the ideas or content, they tie directly to specific areas of the desired skills and knowledge objectives.
Personalization
The second principle that we applied is a focus on personalization of the learner experience since personalization impacts fast and scalable adoption of online content. At Allen we use personalization different than most learning professionals. We don't adopt "learner style" parameters that adopt a design based on visual, auditory, or textual learners. We use marketing best practices to fully understand our audience's motivational and knowledge needs and deliver an experience that meets them. Our portal technology, which works in tandem with clients' existing LMSes, creates a unique user experience by playing off the following principles:
Self-Definition – The learners identify themselves throughout the experience by inputting details about their role in customer experience, setting individual goals, and driving their own path through the content
Role-Specific Content – The portal can identify, recommend, and serve appropriate content based on job function and choices made throughout the course
Social Sharing – Learners can share personal success and connect with others through social interaction within the portal. The portal allows learners to see results and comments from others with similar roles and identities.
Tracking and Reporting – Learner activity is tracked, stored, and can be accessed by program administrators in order to identify what works and plan for future initiatives. Our reporting goes well beyond the typical SCORM wrapper.
The Results
Thanks to HP's incredible top-down buy-in and powerful vision of what success looked like, we were able to partner to create a strong design framework. The results have been nothing short of extraordinary. The program has spread virally within HP, with 300,000 voluntary course completions to date, 10 times more than any previous training initiative in HP's 75 year history. Most importantly, customer satisfaction ratings, the output of new behavior adoption, have measurably improved.
If you're interested in the latest approaches to game-based design, or to brand education generally, I'll be presenting with Sterling Jackson, Chief of Staff for the Office of the Customer  at HP, in a featured presentation at the upcoming Masie Learning 2014 Conference in Orlando, Florida. If you won't be at the conference but would still like to discuss how Allen designs programs like this one, please feel free to reach out to me through this blog or contact one of our Learning Directors directly. It would be great to hear some of your experiences with personalization and gamification in learning. I'm looking forward to the talkbacks, comments and emails on these great topics.
HP and Allen will be co-presenting "Learning Gone Viral: Inside the Most Successful Learning Program in HP's History" on Tuesday, October 28 at 9:15 a.m. local time.