Link'spiration™ November 11th – Internal Social Networks: Kick Down the Cubical Walls (figuratively, of course)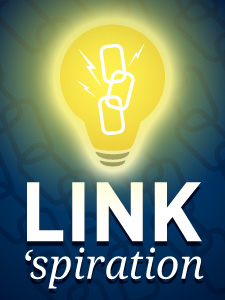 Link'spiration™ is a summary of what our team is talking about behind the scenes on our internal social network. Since we can't turn off our designer eyes, this network is also an experiment in how and why companies use social networks successfully. We recently asked our users why they participate, and here's what they said.
Utility. The information is valuable and relevant; it has specific and timely implications for our work. Like this article on UX testing: 5 Tips for Conducting Scientific Research in the UX World
Sharing. We experience intrinsic satisfaction when we find something we think is great and get to share it with each other. Like this great TED talk on ignorance: Stuart Firestein: The Pursuit of Ignorance
Habit. Some of us are already social butterflies, so this forum is a natural extension.
Creative inspiration. It's a good place to go when we get stuck and need a brain stretch. Like this CT scanner turned pirate: Pirate-Themed CT Scanner
Collaboration. A fundamental premise at Allen is that two heads are better than one (you can only guess how great five heads would be), and our internal social network, Yammer is less formal and more immediate than a physical meeting or even email.

Like this recent post: "All right fellow Allen citizens: I have a question. I have a meeting tomorrow over the phone. I am limited to mostly audio. Any advice on activities that would help this phone meeting have more life?"

Social connection. We like to banter, tease, befriend, and break down cubicle walls (figuratively, of course). Like these revamped Kinkaid paintings circulated after three employees chose Star Wars characters for the Halloween party: Star Wars Invades Thomas Kinkade Paintings
Insight. The network reveals a range of perspectives and allows us to understand roles and personalities different from our own. Like these password management tools from our IT manager: LastPass and KeePass
Growth. We learn from speaking and listening, sharing, and observing. Some participants never say a word but read every post, learning and growing as a result.
What inspires you? Join our conversation below.