Allen Communication Recognized as Top 20 Training Company for 2nd Year in Row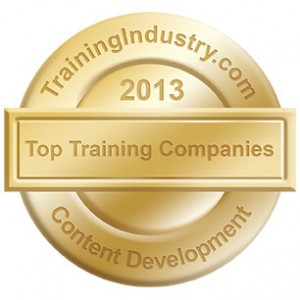 Salt Lake City (July 16, 2013) – Allen Communication Learning Services has been recognized for the second consecutive year on the Top 20 Content Development Companies list by TrainingIndustry.com. The 2013 list identifies the best content development companies in the training industry to assist organizations in their search for the right training partner.
To help improve ROI, Allen works to improve and optimize its clients' training impact by using performance-oriented approaches in highly branded custom training, as well as learning portal development and innovative performance support, on-the-job reference, and mobile toolsets. AllenComm made the Top 20 list again this year by providing industry leadership in the following:
• Industry visibility, innovation and impact
• Capability to develop and deliver multiple types of content
• Company size and growth potential
• Depth and breadth of subject matter expertise
• Quality of clients
• Geographic reach
"Customization was a big factor for us in determining who the top companies were," said Ken Taylor, Chief Operating Officer, Training Industry, Inc. "Top Content Development companies not only provide great custom content services, but they do so for a variety of subject areas catering to multiple industries. Allen Communication definitely offers some of the best bespoke work in the space."
"To stay on top, AllenComm continues to invest in technology and know-how to provide impactful training for our clients. The Allen Assure Process, coupled with mobile development, social portal design and support for the newest standards in interactive design, helps keep us on the top," Ron Zamir, CEO of AllenComm, said. "The greatest challenge facing our industry today is staying relevant to employees and consumers. We are pleased to have scaled globally for our customers and in this recognition from TrainingIndustry.com."
In addition to the TrainingIndustry.com recognition, AllenComm has been honored with more than 21 awards in 2013. To learn more about how AllenComm Communication can help improve the performance of your training and business, visit www.AllenComm.com.
ABOUT ALLEN COMMUNICATION LEARNING SERVICES
For over 30 years, AllenComm has developed award-winning training solutions for the world's best companies. Designed for real impact on learner performance through sound instructional design, AllenComm's proven Assure Methodology™ optimizes program results and maximizes return on your training dollar. Leveraging cutting edge technology to provide web-based training, blended training and mobile learning, as well as advanced LMS technology, AllenComm helps companies engage their learners like never before. Follow AllenComm onTwitter @Allencomm, on LinkedIn, and on Facebook.
Learn more about Allen's training consulting.
ABOUT TRAININGINDUSTRY.COM
TrainingIndustry.com spotlights the latest news, articles, case studies, and best practices within the training industry. Its focus is on helping dedicated business and training professionals get the information, insight, and tools needed to more effectively manage the business of learning.