Customer Training and Consumer Education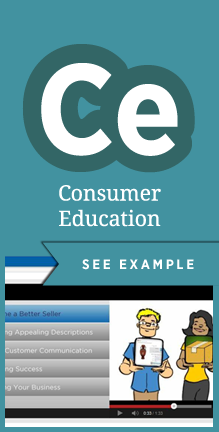 Creating a better customer experience with customer training is vital for better adoption of services, tools and loyalty to an organization's offerings. At Allen, we understand how to engage a disparate audience. We have helped organizations reach consumers globally in over 28 different languages and in multiple technological formats.

People | Never before have consumers been so highly educated on brands and their products. Today's availability and access to information has created immense opportunities to reach customers. The blurring lines of training and marketing can be exemplified greatest through customer training. Effective training can create better adoption of services, customer satisfaction with products and importantly, build a deeper relationship between the customer and your brand and culture.
Technology | Technology provides access to a consumer at their point of need. Technology that easily delivers content designed for just-in-time scenarios provides consumers with relevant information that enhances their experience and establishes trust in a brand. The solutions in learning technology that bring customers mobile learning, video-based learning and bite-sized elearning modules generate an overall better customer experience.
Business Environment | In our current, competitive business environment consumer education cannot be ignored! Innovative technology, rich media and bite-size gamificiation techniques can be applied to create training that is effective and impactful. We have the experience to align training that customers will want to experience with your business goals.
See our most recent work in customer training here.
Learn more about the trends in corporate training relevant to Consumer Education in our blog series.
Want to learn more about our process? DesignJot is our award-winning app developed to help instructional designers, trainers, and performance consultants build better training. This ground-breaking app assists both novice and experienced instructional designers in collaborating with their clients, with the goal of creating engaging training courses.