Allen Communication Helps JetBlue University Crewmembers Navigate New Facility
New Mobile Solution, JetBlue University's First, Delivers Information through Powerful Interactive Map.
Salt Lake City (March 6, 2012) – JetBlue University, the corporate university of JetBlue Airways, has partnered with Allen Communication Learning Services to develop their first internal mobile learning solution, an Interactive map of their new Long Island Support Center (LSC) in Long Island City, NY.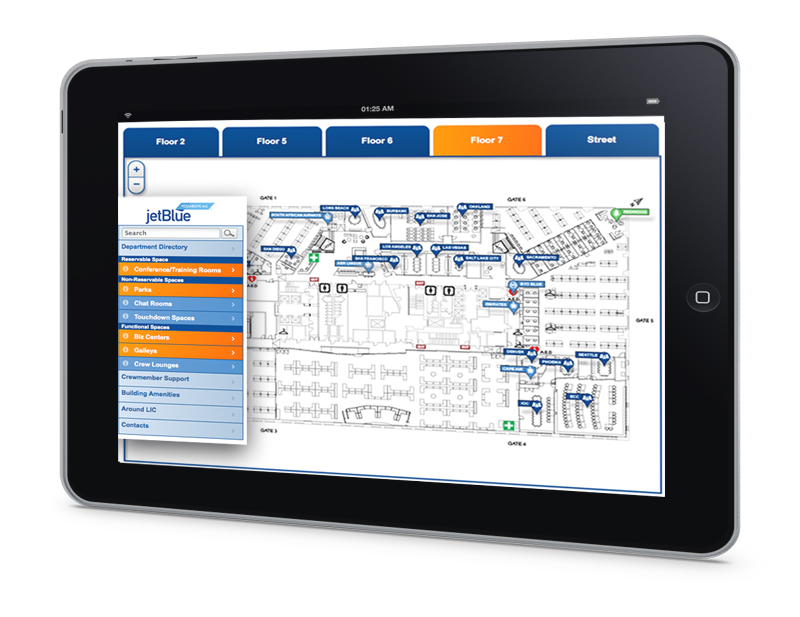 JetBlue University, with campuses in Orlando, Salt Lake City and New York, offers support in training, education, and career and skills development for the over 12,000 JetBlue Crewmembers. The new mobile solution will help employees and visitors quickly acclimate to the new facility and get the most out of its amenities.
Though JetBlue employees rely heavily on BlackBerry devices, the new mobile learning solution is designed to work with all mobile devices, as well as traditional desk-top platforms. The cross-platform compatibility, combined with its intuitive design and easy-to-use functionality, was key to ensuring the new solution was available as a resource for all stake-holders.
"Fitting an interactive map into a small cell phone or tablet screen had unique challenges," said Murry Christensen, Director of Learning Technologies and Administration, at JetBlue University. "The ability to scroll, zoom and pan to easily find the on-map resources was key in helping users orientate themselves in the space and then identify their destination relative to their location. We're very pleased with the results and our Crewmembers have been quick to adopt this helpful new resource."
"Relatively simple learning tools like this interactive map can have a huge impact on employee change management and adoption, whether you're dealing with a new facility or a new enterprise software system," said Ron Zamir, CEO of Allen. "The JetBlue University team has been forward thinking and innovative in their approach to educating their employees and we're proud to be able to support such an innovative approach to training and development."
This isn't the first collaboration between JetBlue and Allen. JetBlue University uses the highly-customizable Allen Learning Portal as their learning management system to deliver their entire online course catalog to JetBlue Crewmembers.
About JetBlue University
JetBlue University (JBU) is the corporate university of JetBlue Airways and offers support in training, education, and career and skills development for all Crewmembers. The primary objective at JetBlue University is to deliver the best learning experience for each student by creating programs that not only provide exceptional adult education, but define and support the JetBlue Values and Principles of Leadership. To learn more visit www.jetblue.com.
About Allen Communication Learning Services
For over 30 years, Allen () has developed award-winning training solutions for the world's best companies. Designed for real impact on learner performance through sound instructional design, Allen's proven Assure Methodology™ optimizes program results and maximizes return on your training dollar. Leveraging cutting edge technology to provide web-based training, blended training and mobile learning, as well as advanced LMS technology, Allen helps companies engage their learners like never before.  Follow Allen on Twitter @Allencomm, on LinkedIn, and on Facebook.